With new fitness trends popping up daily, and more tips, tricks and diets to follow than ever before, London-based model and personal trainer Kim Hartwell stands out. Her sustainable approach to health and fitness is summed up succinctly by her blog name: Tone What You Own. "I'm a firm believer that, no matter your shape or size, each and every one of us absolutely has the ability to tone what we own," says Kim. Her approach to skin care is just as straightforward and health minded. In her arsenal are go-to basics and vitamin-packed glow boosters like the new Clinique Fresh Pressed System—a powder cleanser and serum that are loaded with pure vitamin C. Together, this power duo gets to work fast, to brighten, even and retexturize skin in just 7 days—kind of like a workout bootcamp for your complexion.
We met Kim at Joe & The Juice in London's Soho to talk fitness motivation, food favourites and skin care must-haves. Read on for her simple strategies for achieving skin and health harmony.
1. Commitment is key.
"My day-to-day-to-day skin care regime is straightforward (cleanse, exfoliate and moisturise), but I'm diligent and always cleanse and re-moisturise after a workout," says Kim. Commitment, as you might expect, is also key to fitness. "Squeezing exercise into a jam-packed schedule can be tough, but it's better to do 15 minutes a day than three hours on Monday and nothing else for the rest of the week," she says. Try setting goals to help keep you focused, like an upcoming race you're running, or upping your strength training a little each week.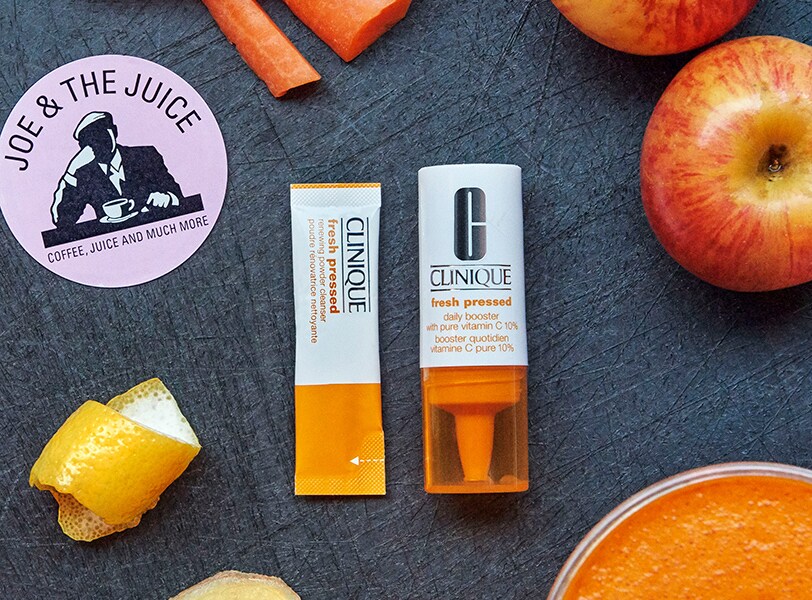 2. Don't overcomplicate it.
"I work long hours, and don't wear makeup when I train, so I want skin care that helps me look fresh and alive without having to put in a lot of effort," says Kim. "An antioxidant serum, like Fresh Pressed Daily Booster with Pure Vitamin C 10%, gets my skin glowing instantly," she says. "I mix it with a rich moisturiser because training can leave my skin quite dry." Fresh Pressed Renewing Powder Cleanser with Pure Vitamin Calso helps perk up a tired complexion with gentle exfoliation, and the single use packettes are perfect for throwing into gym kits. Likewise, don't feel the need to overcomplicate your fitness regimen. As Kim says, "Simple, functional moves like push-ups and burpees work your whole body and don't require equipment (or space), so you can do them anywhere."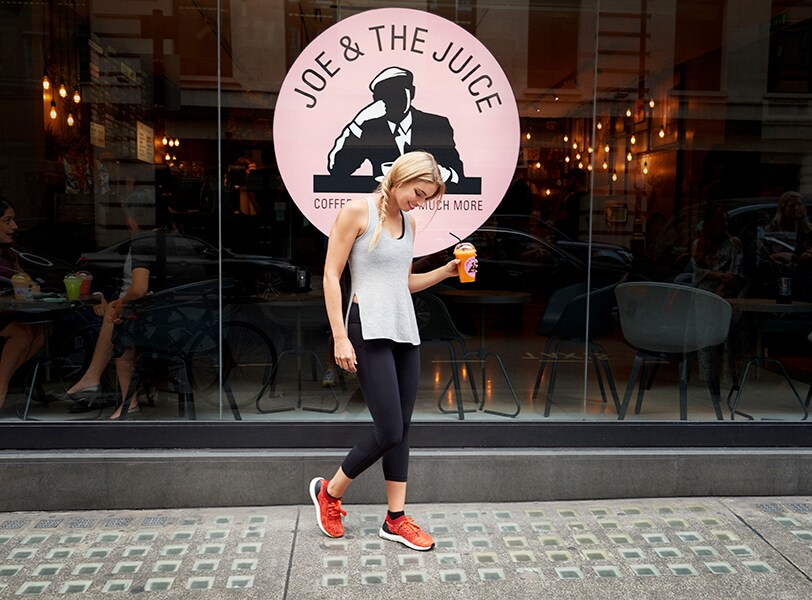 3. Choose fresh and effective ingredients.
"My diet is mostly made up of fresh foods like spinach, broccoli and kale, which are also really good for my skin," Kim says. Juice is another great way to get a hit of fresh ingredients. Kim loves any that are vegetable-based—her current obsession: The new limited-edition Joe & The Juice Fresh Pressed Juice, which has a trio of vitamin C powerhouses: carrot, apple and lemon, alongside a kick of ginger. And when it comes to skin care, vitamin C is most powerful when used fresh too. That's why the Clinique Fresh Pressed System is specially designed to keep the potent skin-brightening ingredient in its freshest state right up until the moment you're ready to activate it.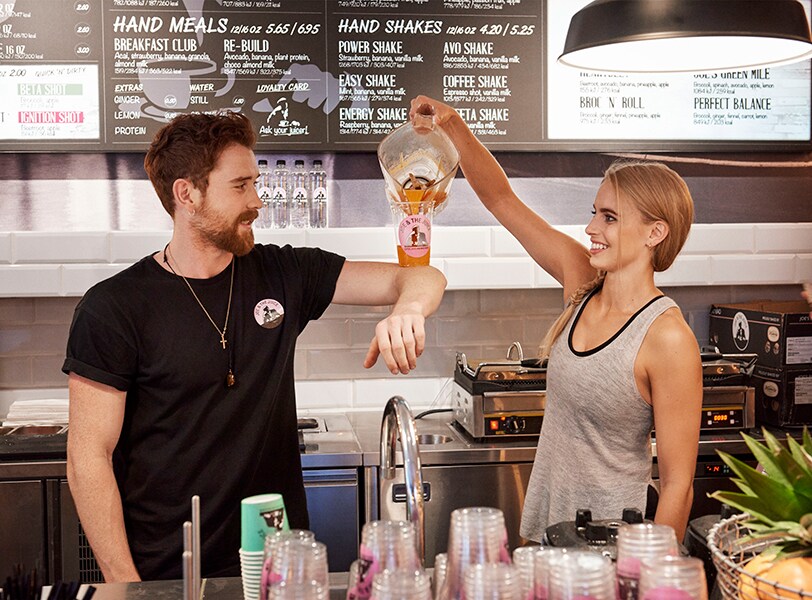 4. Pre-planning helps to keep you on track.
"I'm always on the go, so I meal plan to keep my diet balanced and ensure I'm eating well, even when I don't have time to stop," says Kim. "For breakfast, I make overnight oats with blueberries and almond milk, and each Sunday I prep my lunches for the week by roasting up sweet potatoes, salmon or chicken and vegetables." She also carries hard-boiled eggs, bananas and nut butter in her gym bag for grab-and-go snacking. "That way I know I have something ready to eat that's healthy and tasty," she says. Her other gym bag essentials? "Wireless headphones, a spare gym kit and a hydrating face mist for in between sessions."
5. Mix up your routine to beat boredom.
"Once a week, I'll have a bath and spend extra time looking after my skin," says Kim. "I love face masks—anything super-hydrating or anti-ageing. I also take time to give myself a really good facial massage, it's such a quick and easy way to relieve tension, boost skin health and overall glow." To keep your fitness regimen varied, and your motivation levels at peak, Kim suggests trying out new classes like Aerial Yoga (she rates Flying Fantastic in London) and boxing (try Box Clever Sports), and exploring new neighbourhoods by bike. "I love cycling through Richmond Park and stopping for brunch at Muriel's Kitchen. It helps that it's acceptable to eat brunch in your athleisure nowadays!"
Photos: Benjamin Madgwick | Words: Ashleigh McMorran